Get a third helping hand to hold your tools!

Our extra strong magnetic wristband is perfect for any handyman! With super strong magnets built into the strap, you can hold any metal tool on your wrist!
Guarantees higher efficiency! Know where your tools, nuts and bolts are at all time! Never worry about losing your screws, nails and bolts mid-job by leaving them around on the floor!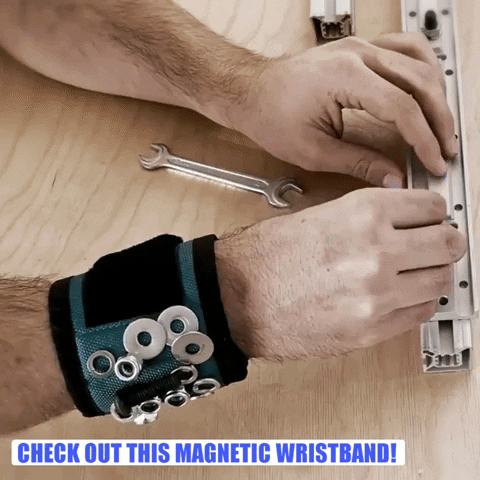 ✅Adjustable strap- Can fit most sized wrists!
✅Comfortable design- No pain or strain when carrying heavy tools or wearing for prolonged periods of time.
✅Practical, non-intrusive design- Small enough to prevent getting in the way whilst still being full practical.

Whether you've given the task of an important construction project, a DIY home improvement job, or a simple fix-it project around the house, it is the perfect tool to complement yourself at work.
Save time from having to go back and forth, up and down a ladder and back to the toolbox to grab certain items. Just keep them on your wrist at all times!
Made from light, breathable material to prevent irritation over time. Wear our magnetic wristband during long jobs without it feeling itchy or uncomftable.
Don't worry, we are still shipping as usual in these difficult times. We ship worldwide. Please note that current shipping time is 2-5 weeks depending on location due to high demand and low staff. We are working on reducing this and will aim to get your package out to you as soon as possible. For this reason, we are currently offering Free Worldwide Shipping. Thank you for the support.